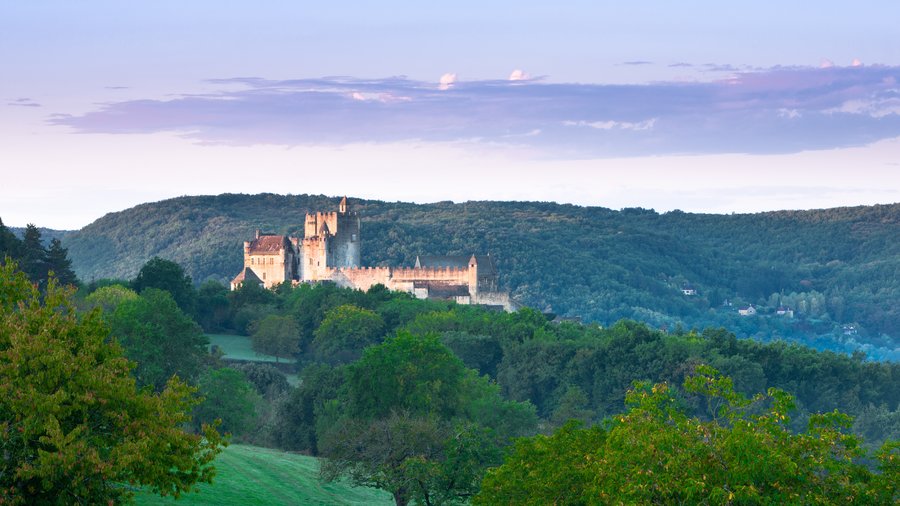 Many parts of the Dordogne and Perigord have visitors all year round and there are many plus points for visiting out-with the main tourist season if your time allows.
You will find that the roads are quieter and the attractions easier to visit, and the more popular places most restaurants will be open for a duration each day. Accommodation can also be found at approximately 40% lower than in peak months July and August.
Hiver
November to March offers something quite different in the Dordogne. The weather can still be very warm, but there is an increased chance of rain and cooler weather, which gives for a cooler nights sleep! If you're a keen cyclists this can be an excellent time to visit. The roads will be almost completely quiet during these months, the scenery just as beautiful.
During December - February it can be very cold (-5 to -10 at night is not uncommon) or very wet (not usually both at the same time) so remember to pack some warm clothing.Many cafes and restaurants, and attractions, will be closed during the period (December - February) as in most rural areas, nevertheless you will find places where can dine out, or purchase some treats from your local boulangerie/charcuterie.Towns such as Bergerac and Sarlat have Christmas markets for all to visit. These are small but nice to browse through and find some lovely local gifts, and soak up the festive spirit .Another bonus of visiting out of peak season is that most of the chateaux stay open during the winter, in particular the Chateau de Castelnaud and Chateau de Beynac. Many of the caves close in the winter, Lascaux Caves remain open as does the Grotte du Grande Roc. It is important to note that if there are specific attractions you are interested in, best to check their opening hours to avoid disappointment.
Printemps
The countryside is lush and vibrant, the scenery even more beautiful, the temperature and daylight is slightly less harsh than in the summer months. Springtime may not offer large events which the summer months do but if you look hard enough there are a large number of events and festivals held, there is almost always an outdoor market in one village or the next, a wine tasting, or an ancient castle to explore. There is an annual folk dancing festival held in Dordogne too, as well as a number of craft fairs and workshops.
One thing the Dordogne should not forget is that it has fantastic food, and spring is the perfect time to experience it. The reason being the availability of ingredients that are only available during certain parts of the year. Hearty duck, refined truffle, creamy cabecou (goats' cheese), underrated wines is just a start, make sure you find yourself lost in one of the many colourful markets for the foodies here in the Dordogne.
"A sunny week in March with the blossom on the fruit trees can be magnificent. Dordogne and the Périgord in winter, with a frost on the ground, or even snow, or a mist rising in the valleys, can be very attractive"